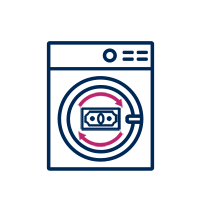 In response to terrorist events in Europe, further amendments are being proposed to anti-money laundering legislation (4MLD). The aim of the new directive (5MLD) is to close down the financial means of criminals without preventing the functioning of payment systems and markets. 
The draft directive (5MLD) has two main objectives:
Preventing the financial system being used for the funding of criminal activities; and
Strengthening transparency rules to prevent large-scale concealment of funds.
The changes will amend the Fourth Money Laundering Directive (4MLD), which came into effect on 26 June 2017.
What are the proposed changes with the 5MLD?
Tackling risks linked to anonymous pre-paid instruments (e.g. pre-paid cards)

: the threshold for identifying the holders of prepaid cards to reduce from €250 to €150 and customer verification requirements will be extended
Tackling terrorist finance risks relating to virtual currencies: virtual currency exchange platforms and custodian wallet providers to apply customer due diligence controls
Stronger checks on risky third countries: improved checks on risky third countries with additional due diligence measures by banks on financial flows from these countries. The Commission has created and maintains a harmonised list of non-EU countries with deficiencies in their anti-money laundering prevent schemes

Full public access to the beneficial ownership registers

: enhanced access to beneficial ownership registers to improve transparency about the ownership of companies and trusts. The registers will also be interconnected to facilitate cooperation between member states

Enhancing the powers of EU Financial Intelligence Units and facilitating their cooperation

: FIUs to have access to information in centralised bank and payment account registers to enable them to identify account holders
Current status of 5MLD
The Directive has been published in the Official Journal of the European Union. The amendments to Directive should be transposed by 10 January 2020, member states have until this date to bring in the necessary national laws.
How we can help with anti-money laundering and terrorist financing
Bovill can help firms navigate the challenges around money laundering (AML) and counter terrorist financing (CTF) legislation by:
Performing an AML and CTF risk assessment based on a robust, repeatable, methodology
Critically assessing your current AML/CTF systems and controls
Designing and implementing appropriate AML/CTF policies, procedures, and governance frameworks
Remediating historic problems
Designing and delivering AML and CTF training
Preparing for supervisory visits and dealing with regulatory intervention
Providing subject matter expertise across all areas of AML including historically challenging areas such as Trade Finance and Correspondent Banking.